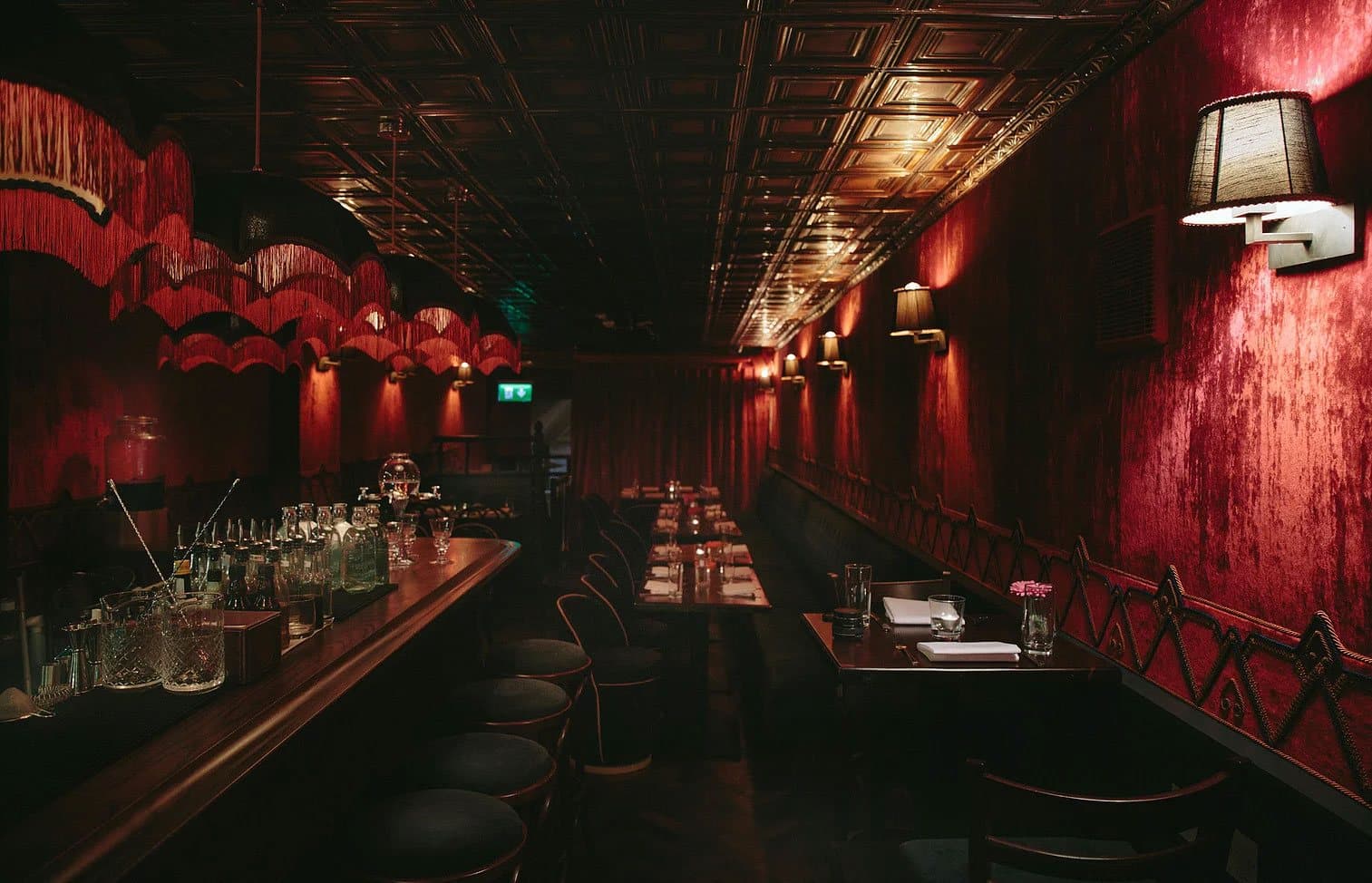 Est. 2017

Secret location in Dublin 2
Phone: +353 1 565 4398
E-Mail: [email protected]
ABOUT
During Prohibition, there were two types of venues where you could get a drink: a 'blind pig' or 'blind tiger' was a venue that catered more to the lower class with dancing and live music, serving beer and poorly-made moonshine — sometimes even produced on the premises itself.
The second type of venue was a speakeasy which was a luxurious hidden venue aimed at the upper class, where the finest alcohol was acquired and talented bartenders were brought in to mix delicious cocktails for famous movie stars and politicians of the day.
The Little Pig, hidden away in the heart of Dublin city, is a nod to these beautiful rooms of years past with plush décor, fine wines, and the highest quality spirits. The sister bar to The Blind Pig, the brainchild from award-winning bartender Paul Lambert, it is a truly sophisticated and opulent 1920s speakeasy.
Covered in rich red velvet upholstered walls with a copper ceiling, it has a bar reminiscent of truly old school glamour.
The Little Pig is plush and warm, offering intimate seating for groups both large and small. Boasting some of the finest martinis you'll ever taste, it also has an absinthe fountain, delicious champagne cocktails and the best Old Fashioneds you'll find in the city. If you find yourself hungry, why not try some of the delicious New York–Italian inspired dishes on offer, all of which have been created to match the drinks.
You may well just find yourself transported back to 1920s high society!
To make a reservation: Book using the form below and, like its predecessor, all will be revealed once you make a reservation. A confirmation email will be sent straight to your inbox giving you our location including directions, codes and the password for entry.
GOOD LUCK!!
THE GREEN HOUR: AN ABSINTHE & BLUES EXPERIENCE
Join us for a night of mystery and allure at The Little Pig Speakeasy as we unveil a one-of-a-kind project "The Green Hour", an Absinthe & Blues Experience.
Our event isn't just about the drink – it's a journey into a world of intrigue. Immerse yourself in the ambience with live performances from some of the best blues this city has to offer, elegant decor, and a touch of the Irish spirit. Whether you're a seasoned absinthe enthusiast or a curious newcomer, this evening promises to be a sensory adventure like no other.
Unlock the secrets and sensations of absinthe in an atmosphere that captures the essence of the Belle Époque. So what are you waiting for! Join us for an unforgettable evening that celebrates history, artistry, and the magic of the Green Fairy.
UPCOMING DATES:
CONTACT US
*Please note, you must be 23 years old or older to dine with us.
BOOK ONLINE
COCKTAIL CLASSES
In our regular cocktail class, you will receive a welcome cocktail upon arrival and learn an introduction to The Little Pig, alcohol, cocktails in general and we will even throw a bit of history in. Then, after the introduction, you will each have an opportunity to learn how to make, and then drink, two different cocktails. This class costs €60 per person.
In our team building cocktail masterclass, everyone in your group will receive a welcome cocktail upon arrival and we will then teach you how to make cocktails. The bartender will show you various techniques and give you advice on flavour combinations, which drink and liqueurs go well together with what syrups and bitters and how they all suit different cocktails, and then, using this knowledge that we has just given you, we will then show you how to make five or six different cocktails using these techniques. After that, it's your turn.
We will then break you all up into teams and each team will be given a period of time behind the bar with all of the alcohol, homemade syrups, liqueurs and bitters at their disposal and, under the guidance of our bartender, be tasked with creating a unique cocktail. Afterwards, each team will have to present their drink to the room and our bartender will judge them based on the balance of the flavours, the techniques used, the fluidity of working together as a team and the name of the cocktail.
This masterclass costs €60 per person. There is extensive knowledge in this class where we do our best to teach you how to think like a barman and, best of all, how to create new cocktails from scratch.
Upcoming Dates:
coming soon…
OPENING HOURS
Monday – Thursday: 5 pm – Midnight
Friday & Saturday: 4 pm – 2 am
Sunday: 4 pm – Midnight